Article
SLO's Plant Daddy Shares His Passions for Vines and Veiled Chameleons
It's not uncommon for pet parents to refer to their four-legged friends as kids. But when it comes to Matty Miller of San Luis Obispo, California, his kids are the scaly varieties.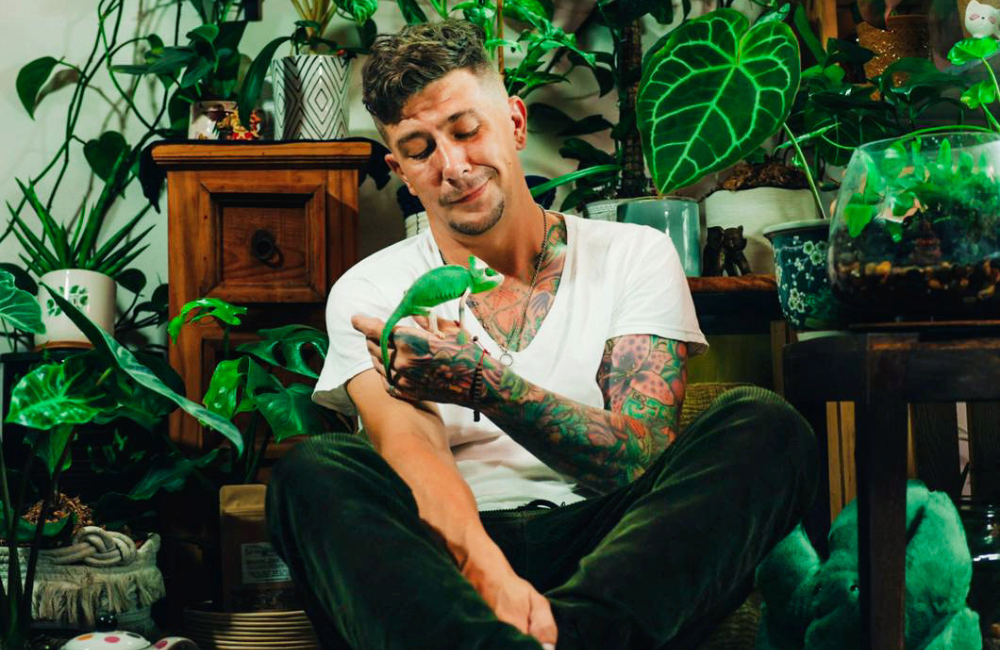 "I was originally known for my plants, but now the reptiles have taken a big role in my life. And they definitely are my family, so I treat them as if I had kids," the self-proclaimed "Plant Daddy" explained.
You can check out Miller's passion for planted terrariums, trailing vines, and smiling reptiles on his Instagram at @LeavesMeLove, where he shares his talents for crafting bioactive enclosures, aquascapes, living plant walls, and so much more.
Planting Reptile Habitats
When asked about his favorite plants, Miller gets giddy with excitement explaining them all but gives a (green) thumbs up to wandering philodendron vines when adding live greenery to a reptile habitat. He also recommends golden pothos for their coverage and colorful bromeliads that store water and provide shade.
His jungle-like home is set up with high humidity and warm temperatures year-round for his plant babies, so "it kind of made sense to have a little friend in my jungle with me," he mentioned.
Then Came LaRue
When Miller realized the planted terrarium enclosures he builds would also suit amphibians and reptiles, he was hooked on herps.
"Once I got my first chameleon, I realized this was a good combination of a lifestyle for me, having the perfect setup and different bioactive enclosures for my reptiles," he explained. "They are definitely spoiled. LaRue (the first chameleon) and I have a very special bond, and we trust each other big time!"
LaRue is a pied veiled chameleon that's stolen Miller's heart. He describes her as the sweetest, most social little girl with a really good life built on mutual trust.
"LaRue, I love you so much and thanks for making my jungle come to life and being so fun and entertaining all the time." Miller shared on his Instagram feed alongside a snapshot of himself with his best repti-gal.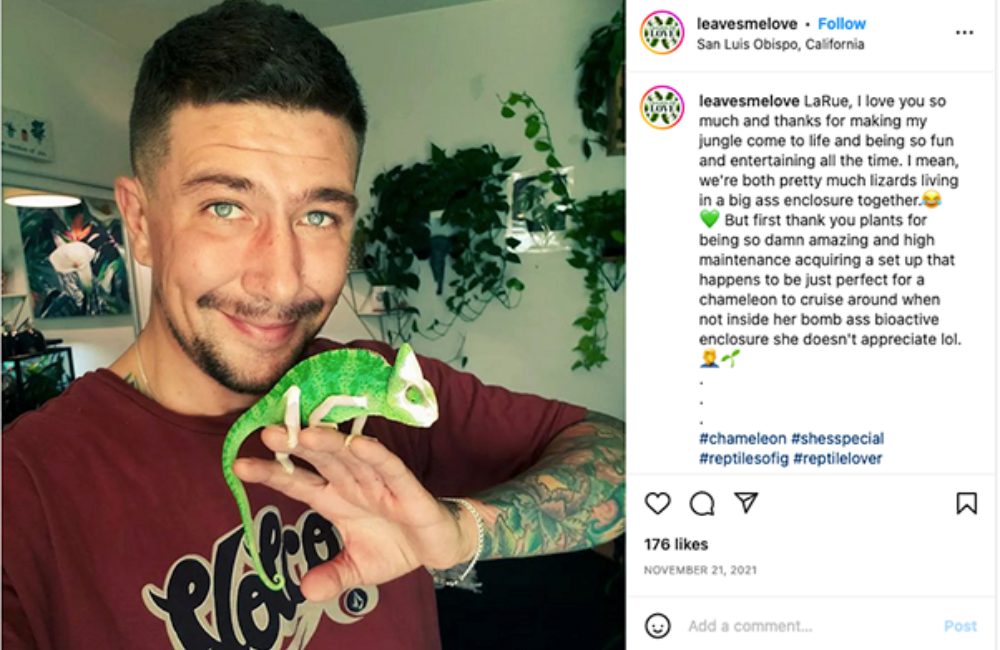 Growing His Reptile Family
Miller is also a reptile dad to Biggie Claws (LaRue's new beau), a bearded dragon named Faden, and some aquatic friends, including shrimp.
"I got Faden from a client, who unfortunately didn't have the time to spend with her, so I took on the responsibility. She is a sweetheart and loves to be held and cruise around with everyone," he added.
And yes, LaRue and Faden are besties. Miller says LaRue likes to climb down her tree and hang out on top of Faden's enclosure, where they make silly faces at each other. Oh, sisterly love!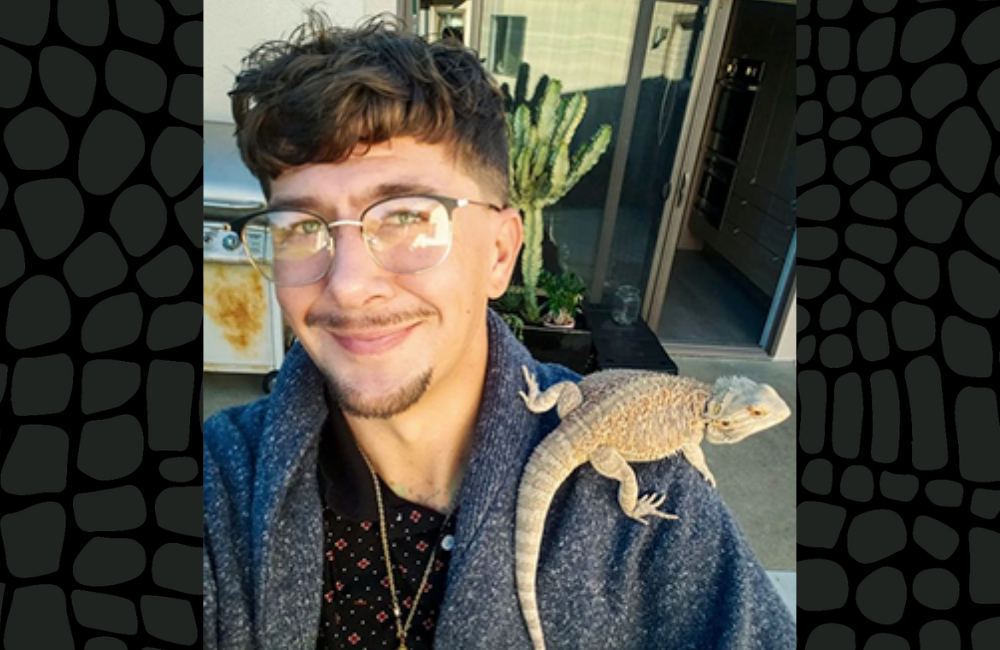 How Plants and Pets Can #RepYourself
It's no secret Miller has found his passion and a unique way to represent himself. He says raising reptiles and plants has given him a sense of responsibility and happiness.
Miller loves to express himself by designing pre-built bioactive enclosures, so new reptile owners have the correct setup ready when they bring home their new pet.
"I have been able to connect the two worlds together, providing happiness, more socialization, and overall longer-living reptiles. They have provided me more work opportunities and the ability to create environments for other reptile keepers," Miller shared. "Reptiles (like LaRue, Faden, and the gang) definitely give me something to look forward to, and if I could build every single one out there a bioactive, real-planted habitat, I would!"
Miller is currently planting a new foliage fantasy in a Zilla QuickBuild Terrarium. He says the habitat is "insanely awesome, easy to build, spacious, and perfect for a desert scape or a planted terrarium." He's also considering making it into a habitat for some lucky anoles or spoiled frogs — complete with a stream. Right now, he's collecting plants and dreaming big as he designs the enclosure, which can take weeks to complete.
The Zilla QuickBuild Terrarium offers a sleek glass style that easily coordinates with any home decor. Reptile parents love the sturdiness, stackable design, and front-opening glass door to make engaging with their pets a breeze. And they break down easily for storage, to move to a new location in your home or a new home altogether. This terrarium comes two ways: with a base that holds water or a removable bedding tray.
"Either way, it is very universal, and I can't wait to see what everyone else does," he added.
Bonding over Blueberries
When he's not teaching a workshop, working on his terrarium builds, maintaining plants for businesses, or attending expos, Miller spends quality time with the babies he loves so much.
"Every day we hang out, and they get to roam different trees around the house, but then I rotate them back into their enclosures where they get the correct lighting and heat, of course," he shared.
He also hand-feeds his reptile pets blueberries as treats. After all, munching on bugs and worms all the time can get a little boring — and all kids deserve fresh fruit.
"It's been literally a wild adventure with all of these reptiles, and we live a real-life Jungle Book. I love them, and they are my family."